Spoiler warning!
This article or section contains major plot details. Readers are encouraged to experience the game before browsing this page.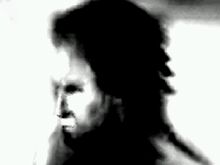 ''It's the monster... It followed me here... It always follows me, no matter what I do.''
— Joe Davis, Chapter 6
Joe Davis
lives in Flat 3 of the
apartment building
with his wife,
Ivy Davis
.
Personality
Edit
Joe is mentally ill and obsessed with protecting his wife. He doesn't see that what he is doing to her is actually killing her.
In Downfall, he is shown to be very caring and protective of his wife, as shown through the lengths he had gone through in order to "save" her. He was shown to hate killing despite doing so throughout the entire game, but his actions were only due to his illness. As seen in the game, he has dissociative identity disorder and schizophrenia.
Before DownfallEdit
Joe, his parents and his younger brother, Robbie, were from Seattle, Washington before moving to England, Helen Road, according to the Downfall Remake. When they were both children, Joe and Robbie were on their own quest in finding a briefcase of money in the abandoned construction site. In the remake, Joe dismissed Robbie, thinking there probably was no such thing there, so he left him. He met Ivy sitting outside a restaurant, and she shared her love for cats and her strict diet with him. The two befriended each other and Robbie was able to convince Joe to get the briefcase after Ivy showed interest in it. In the building site, they encountered a slab of concrete, which Joe discovered to be covering a crate full of grenades (originally a landmine) - they also realized that there was no briefcase to begin with. Joe and Ivy decided to retreat, but Robbie stubbornly took a grenade and let it fall accidentally, which resulted in his death. It was shown near the end of Downfall that his mother, Mary, committed suicide after Robbie's death and Joe's father blamed Robbie's and Mary's death on Joe, blatantly stating that Robbie had always been the parents' favourite.
Some years later, he met Ivy in his twenties, although she didn't remember their first meeting, nor Robbie. The two fell in love and got married in a few months, and the two seemed to be a perfect match. However, Ivy suffered from anorexia (In the original game) or bulimia (In the remake), which started when she wanted to lose some weight and regain her beauty but it soon became a problem, and she began to hate her self image even more. Joe had tried to stop her from starving herself, but his attempts only led to their deteriorating relationship. Joe's mental health had also deteriorated, which led to him consulting with a psychiatrist name Dr. Frank Zelmann (also known as Dr. Z). Joe came to hate Dr. Z due to his "know-it-all" personality, which resulted in Joe killing him. Joe then kept Ivy in the basement of the apartment he lived in, feeding her smoothies made out of flesh in order to "save" her from her obsession (as seen in the original and in The Cat Lady). In the remake, Joe and Ivy just seem to be struggling with their relationship in general, although it's clear for Joe that he'll do anything to make things right between them.
In DownfallEdit
Joe took Ivy on a little vacation and lodged at Quiet Haven Hotel for the night, hoping to find a doctor for her the following morning. Before they went to bed, among other mad outbursts, Ivy had Joe admit that their marriage was no longer the same and she was planning on breaking it off once their vacation was over. Shortly after, he found out that the hotel was not as normal as it seemed and Ivy went missing. To get Ivy back and to escape, Joe must kill four memories of a woman named Sophie Cheauvair. In all endings, Joe escaped.
In the 2016 remake, the game starts with Joe and Ivy arriving at Quiet Haven Hotel as a romantic getaway in order to resolve their marital issues. However, Ivy admits that she believes it's time for them to break up once and for all after 10 years together, which is something the player can choose to agree or disagree with. It is revealed that instead of being force fed by Joe, Ivy had nearly starved herself to death and Joe was trying to bring her back to life by electrocuting her and that Quiet Haven Hotel was Joe's schizophrenic perception of real events, although as a place, it may truly exist. All endings of the remake were changed so they can tie in better with the aftermath of The Cat Lady. In two of them, Joe escapes and is revealed to be the Sixth Parasite.
In The Cat LadyEdit
Joe plays a minor role in The Cat Lady. He had become truly mentally unstable and had continued to feed Ivy meat smoothies made of humans (this has been changed in the 2016 remake of Downfall). In Chapter 6, we see various imagery while on his flat that reveal his true nature and events of Downfall are mentioned. His fate is unknown after the end of the gameplay. He has an important role in The Cat Lady Reunion where he talks to Mitzi and Susan on game events.
"I've tried calling for help too. Nobody ever comes. Just the Devil."
"GET BACK HERE RIGHT NOW AND GIVE ME THE BLASTED KEY!!!"
"There's no need to be afraid. I... I don't bite."
"Why would I want to kill YOU?"
"But if this is a dream... I've been asleep for a very long time."
"This isn't Ivy!!! This isn't my wife..."
"It's the monster... It followed me here... It always follows me, no matter what I do."
"STRANGLE THE GODDAMN CREATURE, SO IT NEVER FOLLOWS ME AGAIN, OR I'LL SHOOT YOU RIGHT HERE, RIGHT NOW!!!"
"Of course you haven't got a heart... isn't that right?"
"But I'm pretty sure the hotel is called Quiet Haven."
"YOU WERE NOT SUPPOSED TO BE HERE!!!"
"It's all wrong, no matter what I do... Damn it!"
"THEY think I'll fall for these lies... but I'm smarter than this..."
"Let's start from the very beginning."
"In my dreams I visit this place. The only one that never changes. My escape. My Quiet Haven."
The creator stated in an interview for the original Downfall that if you watch closely, you can see some of Joe's old sprites in some frames of the animation. This is due to him remaking Joe's appearance halfway into development.
He is called "The Sixth Parasite" by The Queen of Maggots.
Joe is a talented pianist, like Susan, as seen in the Downfall Remake where he plays "The Noises That She Makes in Their Bed" (by Warmer). However, he doesn't play as often as before.
Jesse Gunn, his voice actor, is the singer and songwriter known as Warmer.
He was addicted to cigarettes but stopped a few years before the Remake.
He has a black Nirvana T-shirt and seems to be a fan.
There's a lot of pictures that make reference to schizophrenia and dissociative identity disorder in the game, like two faces with one of them happy and another sad or one single face but a lot of eyes and mouths, etc.
While he seems to be mentally ill, it's possible that he is inside a trap created by The Queen of Maggots, who revealed that "everything here is my business" and she is the one "who pulls the strings".
He is a big fan of Stephen King and finds one of his books "Misery" with a screwdriver inside in Downfall Remake, like Susan.
Susan reveals to Mitzi that Joe and Ivy once had a pet cat called Lucifer. This cat is mentioned in the Downfall remake, and quite possibly was the cat Joe burned alive, believing it had swallowed a key he needed.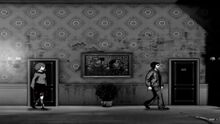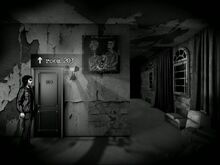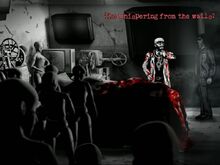 The Cat Lady — Content navigation
The Parasites

       
Doctor X
 Pest Control Man • Gladys
Carpenter
Adam
Ad blocker interference detected!
Wikia is a free-to-use site that makes money from advertising. We have a modified experience for viewers using ad blockers

Wikia is not accessible if you've made further modifications. Remove the custom ad blocker rule(s) and the page will load as expected.