Lorelai
is a game that is currently being developed by
Harvester Games
.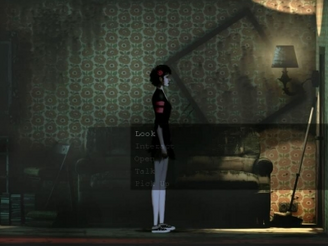 Not much is known about the game, however Harvester Games do periodically release teaser images.
Screen 7 revealed later that Lorelai is in fact the third and last game of the trilogy "Devil Came Through Here" aside with The Cat Lady and Downfall Remake. Its production began in Spring 2016 and Screen 7 have released an ETA of 2017.
Plot summary
Edit
Lorelai is a sequel to The Cat Lady and Downfall Remake. According to Rem Michalski, the game is a strange horror story about a girl called Lorelai. This girl could be the Queen of Maggots, although the identity of the protagonist wasn't revealed yet.
Michalski said once he was working on a game called "Let's Play Dead". It could possibly be Lorelai.
There's an achievement in Downfall Remake called "Lorelai" with a picture of a woman with a red rose.
In Downfall Remake, the Queen of Maggots tells Agnes that her real name is Lorelai. However, it is currently unknown whether she was telling the truth.
Ad blocker interference detected!
Wikia is a free-to-use site that makes money from advertising. We have a modified experience for viewers using ad blockers

Wikia is not accessible if you've made further modifications. Remove the custom ad blocker rule(s) and the page will load as expected.