Prologue
Chapter №
-
Locations
Susan's apartment
Featured characters
Susan Ashworth and Teacup

___________________________________

Previous chapter
-
Next chapter
Chapter 1
The prologue comes before the seven chapters in The Cat Lady.
"My name is Susan Ashworth. I live alone in this old two-bedroom flat. I rarely go outside. Some would say it's a lonely life, and I guess that's true, but I don't like people's company. Not lately, anyway. I only trust in my cats these days, and I will miss them dearly... but they will understand, like they always have. Teacup stays with me 'till the end. He watches me, as if he knew... Because, early tonight, I swallowed a whole bunch of pills. They're legal, of course. Prescribed by my doctor for my sleeping problems. But I've taken thirty four of them. All I could find in the cupboard... and now the room around me spins in a blurry tango as my heart slows down.
Any second now, I will be dead. I've only got one thing to say now.
Thanks for nothing...
Goodbye."
Susan Ashworth introduces herself as a woman who lives alone in a two-bedroom flat and rarely goes outside. She says she has been disliking other people's company lately, preferring the companionship of her cats. Lately, she trusts only her cats and will miss them dearly when she is gone.
Susan says that Teacup, a black cat with luminous yellow eyes, will stay with her to the end. Teacup watches Susan as she takes an overdose of sleeping pills that her doctor prescribed. Susan narrates her fading sensations as she slips out of consciousness.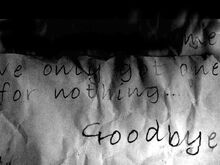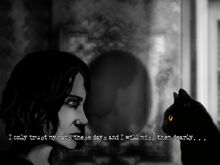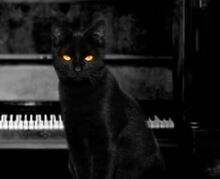 The Cat Lady — Content navigation
The Parasites

       
Doctor X
 Pest Control Man • Gladys
Carpenter
Adam